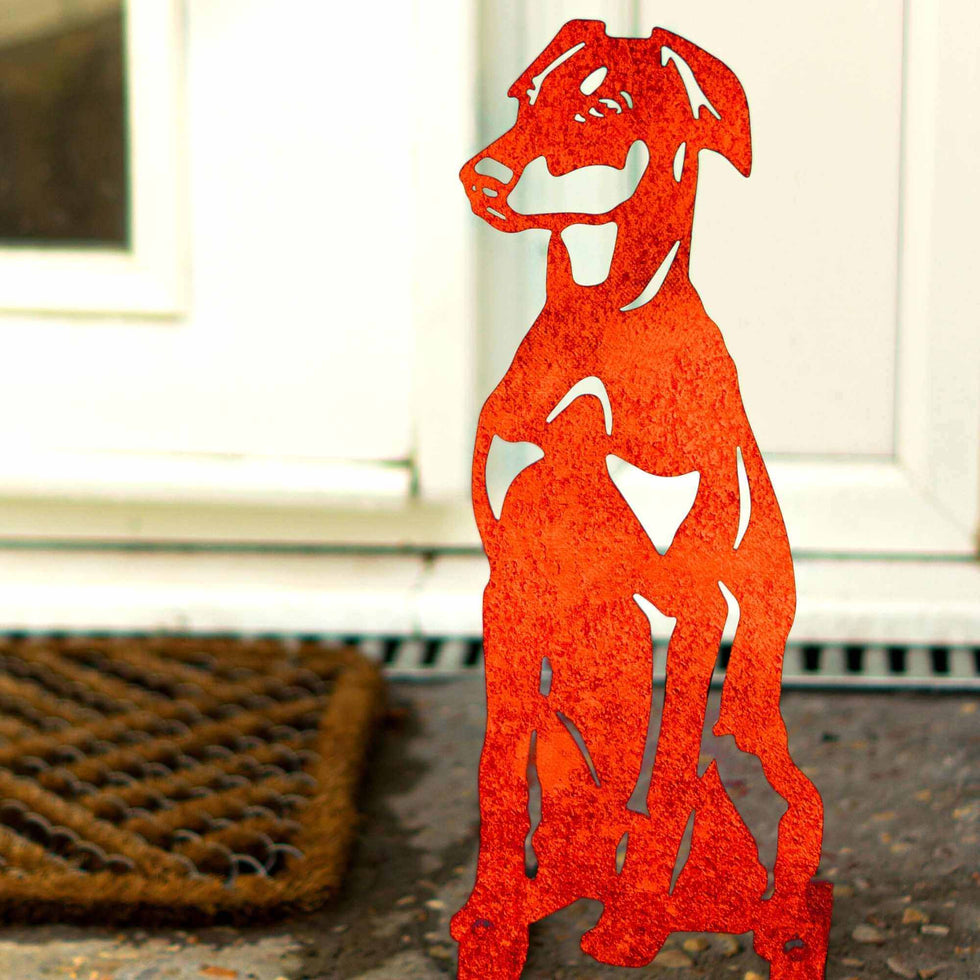 Hot
New
-21%
In stock
Pre-order
Out stock
Doberman Pinscher Sculpture Dog Owner Lover Gift
PRODUCT SPECIFICS
Custom text
More information
PRODUCT SPECIFICS
Doberman Pinscher Dog Statue - This Personalised Dog Sculpture is the Perfect Gift for Dog Lover, Owner, Present for Pet Birthday, it is the part of Christmas Decoration, the Garden Ornament.
• Size & Material: Doberman Pinscher Dog Statue W20xH45cm, Finish: Black Weather Resistant Paint or Natural Patina. Mounting: a stand with fixing holes. Heavy Duty Metal Laser Cut Weight 4 kg
• Doberman Pinscher Themed Gift for Dog Lover: This Dog Sculpture is the perfect present for Dog owner, New Puppy Gift, Present for Dog Mom and Dad, Dog Walker. Shop Perfect Doberman Pinscher Dog Related Gift for Her, Him with Our Dog Gift Collection. It is a pet silhouette to decorate a room, garden or to become part of Christmas or pet birthday decorations - sounds like a gift.
• Dog Garden Ornament: A life-size realistic dog statue is a decoration for transforming a garden, yard, or house into a paradise. A unique piece of garden decor to serve as a fun door stop for any dog lover out there. If you love your pet this free-standing figurine is just the thing you need to make your home or garden your own, it is a beautiful laser cut dog silhouette to decorate any place.
• Pet Birthday, New Puppy Gift: Pet Birthday is approaching, and you are puzzling over what to get an animal lover - calendar, frame for a photo or other boring gift? Look no further - Dog Garden Ornament by LOGI UK would make a great present for the happy Doberman Pinscher Dog owner. Let everyone know how much you love your beloved furry pet friend by adding this dog decoration to your outdoor decor.
• Home Decor: This dog figurine is coated in black weather-resistant paint- they'll brave any weather and guard your home as well. Put them wherever you want! The sculptures are attached to a sturdy stand so they can be displayed on any surface. The metal is laser cut which creates a stunning, high-definition design. Adding this metal Dog Ornament to your home decoration – hallway, cloakroom, porch, you can make sure everyone knows - I love my Husky.
• Personalised Dog Statue: This Dog Statue can be personalised with your pet's name, their birth years, and a short eulogy. Personalisation is ONLY available with ""Personalised Natural"
Doberman Pinscher Sculpture  is a sculpture from our Dogs collection which features all of the most popular dog breeds. Find your beloved furry friend in the Dogs Metal Sculpture collection.
 If you would like to order something with an individual design - please look at section BESPOKE PRODUCTS  and message or call  us. We would more than happy to bring any of your daring fantasies to life.
If you would like to learn more about this Metal Garden Art piece and other products - follow us on Facebook, Instagram, Pinterest, You Tube, Twitter. There you can find reviews from our clients, videos, you can post there any questions. We would be glad to see you amongst our online friends. 
Custom text
Text content of Tab goes here!
You can make text bold, italic or add link using rich text editor.
More information
We offer a full and complete bespoke design service. Please contact us and we can discuss ideas for your own custom fire pit.
If you would like to learn more about this firepit and Logi's other products- follow us on our social media pages on Facebook, Instagram, Pinterest, Twitter. There you can find reviews from our clients and our How its Made videos. If you have any questions post them there! We would be very glad to see you amongst our online friends.