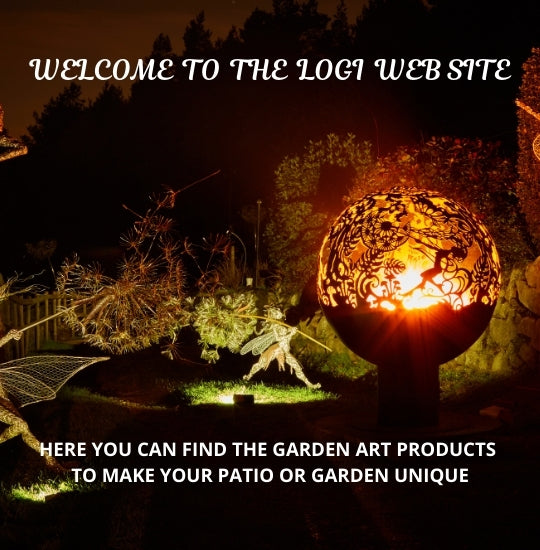 Featured product collection
Categories Collection by Design
MOST POPULAR SERVICES OF OUR COMPANY
We assist and support our clients to develop their business fast and successfully

Panels for garden
Logi has a vast collection of fence panels- they can become garden fence panels, privacy screens, or deck panels. Request any size or design for your personalized garden metal screen at optional cost. Each outdoor design fence is finished in black weather resistant paint to keep your privacy panel looking stunning. Logi's outdoor privacy screens are laser cut. Carefully and skilfully made by craftsman in the UK each metal screen for privacy is of the highest possible quality. Our metal art panels will make a stunning centre piece for any garden or patio. They have many uses, from railing panel to balcony privacy screen, balustrade or divider screen. Frame your garden parties with a gorgeous metal art fence by Logi UK, you won't regret it!

Steel fire pits
You will not find a firepit on the market that compares to Logi's fire pit ball in quality or design. Our steel firepits are laser cut, made in the UK combining British craftsmanship and technological innovation. The wood firepits feature stunning HI definitions designs of our bespoke fire pits created by professional artists. Our ball fire pits include ash pans to reduce mess. Each garden outdoor  fire pit has fixing holes for stability. Different fixings are available so you can put your fire pit globe on any surface. The spherical fire pit is coated in weather and heat resistant paint that can withstand 800+ ℃ We feature sculptural fire pits that are entirely unique, each fire bowl stands out from the next. Our most popular designs of unique fire pits: Fairy art fire pit, Star Wars fire pit ring, Safari fire pit bowl and Alice in Wonderland firepit sculpture for the perfect tea party. Logi offers a bespoke firepit design service - our designers will work with you to transform your ideas into a beautiful, custom fire pit. A sculptural bespoke  firepit that is entirely your own! 

Metal Garden

Art
The Logi team is proud of the metal garden art that we produce, and not without reason. Logi's portfolio includes a huge number of custom-made metal garden art products –if you want to adorn your garden or patio with a personalized piece of metal art or order a bespoke product as a gift contact us. And if you want a piece of metal garden décor that has practical applications choose a fence planter. Each garden planter is of the highest quality, featuring a HI definition laser cut design that distinguishes it from your everyday garden décor. Logi's outdoor planters are finished in weather resistant paint to keep it looking fabulous. They can be used as a fence plant pot or a privacy screen. A flexible design like that is all your garden needs.
 
Artwork Sculptures
Logi creates both indoor and outdoor décor- handmade sculptures and wall art to decorate your home and garden or become a unique housewarming gift.
Our laser cut metal artwork featuring one-of-a-kind bespoke designs is made in the UK by experienced craftsmen and professional artists.
Logi's products are made in various styles, modern, contemporary, classic, an eye-catching decorative accessory for your home, patio, office or garden.
A plaque, screen or sculpture by Logi expertly crafted from steel, will become the centrepiece of your garden, transform any room and become the focus point of your home.
From Handcrafted Statues, Hanging Wall Signs Ornaments - you will find an unusual and unique present for yourself, your loved ones and your friends for any occasion - birthday, Christmas, Fathers and Mother's Day. You cannot go wrong with a gift from Logi UK.